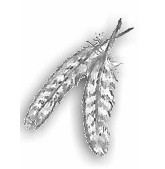 Arizona Territory 1879 was an untamed frontier. It was a harsh land, high plains desert, sprinkled with cactus, mesquite, rattlesnakes, and Apache. The territory was an unforgiving land where settlers eked out a living and miners chased dreams of gold. It was a wild land, where legal decisions were often a matter of who had the faster gun. Along the border with Old Mexico, the soldiers of the U.S. Cavalry risked their lives protecting settlers and keeping the peace with the Apache, for the princely sum of thirteen dollars a month.
Camp Huachuca was an army post poised at the edge of civilization, overlooking routes popular with migrating bands of Apache, and cattle rustlers from both sides of the Mexican border. When Captain William Yeager's daughter disappears, presumably taken by the Apache, Yeager and his wife are desperate to find their child. But as a representative of the United States government, there are boundaries he cannot cross, such as the Mexican border south of which many groups of the Apache have winter camps. Yeager sends for the one man he knows that might be able to find his child and bring her home safely; an ex-scout who served with the 7th Cavalry, Walks with the Wind.
A Child of the Wind is the story of a man, born to wander, raised by the Mandan people and destined to be tested on a quest that stretches from the Black Hills of Dakota to the rugged Huachuca Mountains of Southern Arizona. The tale of the one-time cavalry scout, whom members of the Seventh Cavalry knew as Walks with the Wind, is set against a rapidly changing frontier landscape where the prospect of gold, silver, or copper could cause a rough prospector's camp to grow to a town of several thousand nearly overnight, and then disappear just as quickly; the buildings left to house only ghosts, the people cut loose to drift to the next claim or to find their tombstone. It is a story from a place and time that led some to an early grave and forged others into legend.