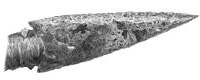 The Indian Territory was an unforgiving, hard land, filled with men, just as hard and just as merciless. It was the birth place of a slight, pale, boy named Boone Marlowe. He learned early in life not to expect too much from any one. Once he learned how to use a gun, he didn't take too much from anyone, either. Hired gun, bounty-hunter, and scout, big-game guide; Boone Marlowe was a restless spirit never staying in one place too long. As a scout for the US Cavalry, Boone honed his fighting skills against the Sioux. He rode the hard trail under the command of Nelson Miles, and suffered through the bitter winter of the Great Plains in the fight against Crazy Horse. But he was set adrift when the last of the great Indian Wars came to an end.
Boone made his way to New Orleans, and gambled in the Crescent City until the tide of fate pushed him ashore in Cape Town, South Africa. Boone soon found a new employer; the Transvaal Rangers. Along with the Boers and the British troops, Boone is thrust into action against the deadly Zulu impi in the fierce Anglo-Zulu War. Marlowe may have been a newcomer to the Dark Continent, but he was no stranger to war. The Zulu eventually admit defeat, and the Boers claim independence from the British. Africa loosens its hold on Marlowe, and Boone returns to the land of his birth.
Much has changed since he last rode the open plains, and yet some things were still the same. On the grassy plains of Wyoming there were still jobs to be had for a man handy with a gun. To his surprise, he discovers an affinity for horses; the Appaloosas of the Nez Perce. He is content, perhaps for the first time, to settle into the role of a ranch hand. But riding for the brand places him in the middle of a conflict between a would-be cattle baron and a woman, Lauren Shelby, determined to raise fine horses. War is coming to the range, a war hotter than the drought-stricken land. He was a stranger to Charlie Stanton, the hired gun trying to burn-out Lauren Shelby, but Boone Marlowe is no stranger to war. Though it is a war he may not win, Boone prepares to wage war the only way he knows how, guns fully-loaded; no quarter given or asked.






The camp was bustling with activity by the time Boone rode in. He and several other Rangers and a few of the Natal Native Horse had banded together on the ride from Hlobane. There was even a few of members of their group wearing the red jacket and brown trousers of British the 91st Regiment. The Zulu had pursued, but only for a short distance before they turned and headed back to the mountain to attack the British still on Hlobane.
Boone found the cousins helping to fortify a position. Arjan looked a little scratched up, and Gerholt sported a bandage on his left arm, but otherwise the two men seemed hale. "Where's the Sikh?" Boone asked. "Did he make it?"
Gerholt nodded. "He's helping with the horses over at the corral."
"Grab something to eat and drink, Yank," Arjan advised as Boone dismounted. "There might not be time later. This time tomorrow, all hell will be loose here. This will be winner-take-all. If the Zulu win, the British will have lost, not just the battle but the war. With the loss of Isandlwana and Hlobane—if they lose Khambula, it would be years before they could mount another campaign." He grunted as he heaved a sandbag into place. "But if we stop them here."
"If we beat them here," Gerholt interjected, "we will have cut their hearts out. That was the entire Zulu impi back there at Hlobane. They held nothing back. They bet everything on wiping out the British."